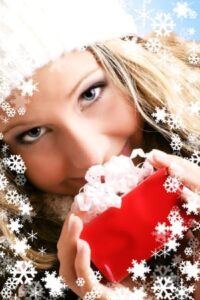 Seasonal Guide to Cosmetic Surgery
It's the most wonderful time of the year… for cosmetic surgery. While cosmetic surgery can easily be performed all year long, there are times of year that make it more convenient. This time of year, the winter, is perfect to get the majority of the surgeries on your list. (You added this to your Holiday Wish List already right?) Here is a guide for you when considering the ideal season for you to get the surgery you've been wanting.
Winter
Cosmetic surgeries in winter are great because:
Cold climates require bulkier clothes, turtlenecks, scarves, and hats.
Lots of holidays like Hanukkah, Christmas, New Years, Martin Luther King, and Presidents Day allow for long weekends and time off.
Often business is slow so your absence from the work place wouldn't be as noticeable.
You've decided to finally get "the look" you've always wanted for the New Year!
LIPOSUCTION, TUMMY TUCK, BREAST IMPLANTS… just about any type of cosmetic surgery is great during the winter. The thicker clothing with more coverage conceals any swelling and bruising, and is overall more cozy and comfy for nurturing your healing. It also covers any drastic body changes so it won't be noticed if your body looks one way today and different tomorrow.
RHINOPLASTY, FACELIFT, BLEPHAROPLASTY, BROW LIFT, LASER RESURFACING… and their after effects like swelling and bruising are discretely covered by hats, scarves, and turtlenecks. It's also very normal to go darker in your hair color and makeup with the season change, so this can help draw attention away from facial surgery and cover any bruising.
Spring
Spring is a better time for surgery for those who want to focus on being around family and stay visible, in the social scene, during the winter. The "spring cleaning" mindset of getting things done can be an inspiration to get the surgery done that has been on the back of the mind.
BODY CONTOURING, LIPOSUCTION, BREAST AUGMENTATION… cross them off the list and allow your body a full recovery for summer months of beach, more revealing clothes, and bathing suits. New years resolutions for weight loss have a chance to kick in and become a habit so that body contouring can have the best results.
Summer
Unless you want to use your summer vacation time to recover, summer isn't the ideal time for cosmetic surgery. But, if this is the best time for you then avoid the sun and sweating for a normal healing process… so no you shouldn't be hanging out poolside while you heal. Dr. Davison's advanced techniques allow for shorter healing times than with older procedures.
BOTOX, JUVEDERM, RADIESSE, SCULPTRA… are good choices for the summer months. These injectables require little or no down time or recovery. They are in and out and you're on your way to looking fabulous on your vacation or for those summer parties.
Fall
This is another good time to consider cosmetic surgery. The fall boasts cooler weather that required clothes with more coverage. The back to school routine can provide some predictability that would allow for scheduling a surgery, just in time for the holidays.
But who wants to wait all the way until next fall? The winter season we're in right now is ideal for any cosmetic procedure. Men and women of all ages and stages in life are taking advantage of holiday breaks to schedule a consultation and then the cosmetic procedure they've been wanting to have done.  You can do the same today at www.davinciplastic.com.
Best Wishes,
Dr. Steven Davison