5 Minute Read:
For many people, facelift surgery is one of the first procedures that comes to mind when asked to think of anti-aging plastic surgery procedures.
And that's because facelift surgery is one of the most trusted and popular cosmetic procedures available. In fact, in 2020 alone, the facelift was the third most common cosmetic surgical procedure, with nearly 235,000 procedures performed.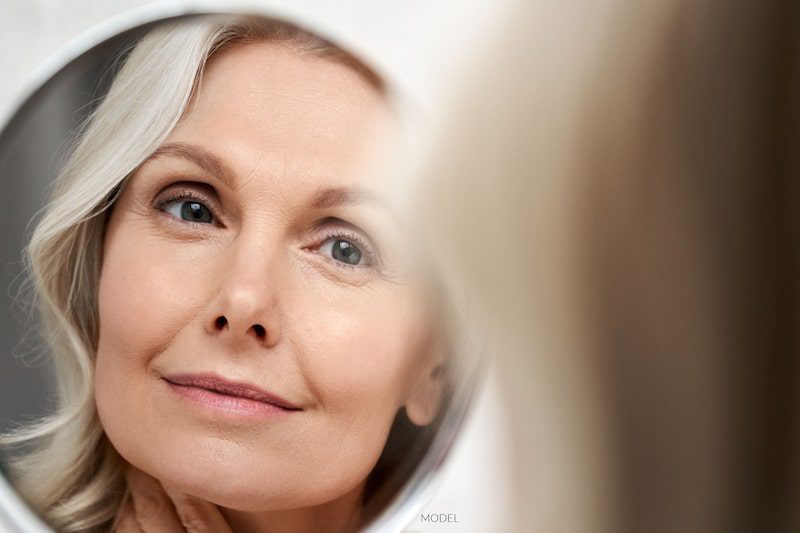 However, many people do not really understand what a facelift actually involves. They may be under the false impression that a facelift is simply tightening the facial skin.
While a facelift does involve tightening the skin on the face, there is much more to the procedure.
So, to help you better understand what a facelift is and what it can do for you, here is some information about facelift surgery.
What Can a Facelift Correct?
Whether from age, lifestyle, or life events, many men and women develop excess skin, unwanted facial fat, and sagging tissues (particularly around the midface and jawline) along with wrinkles and fine lines, on their faces.
These facial issues can be embarrassing for a lot of people.
However, facelift surgery can help address these issues by smoothing wrinkles and fine lines, getting rid of sagging skin, and lifting the underlying tissues to eliminate the presence of jowls.
And what's more, facelift surgery doesn't just address these problems on a surface level, but instead, treats these issues below the surface so that you can have long-lasting and natural results.
How Is a Facelift Performed?
Facelift surgery is a complex surgical procedure that requires skill and extensive knowledge of the facial structure.
While all facelift surgeries are tailored to the patient, there are commonalities between procedures. In general, the surgery is performed with the following steps:
Facelift surgery is generally performed under

general anesthesia

, so you won't feel any pain or discomfort.

After the anesthesia has been administered,

Dr. Davison

or Dr. Pinell will make an incision that begins at your temples and continues along the contours in front of your ear, ending at the base of your scalp.

An additional incision may be made under your chin to address any issues that may be present there.

This is an incision made with all neck lift patients.

Neck lift surgery

is commonly performed in conjunction with facelift surgery to address vertical neck banding and excess skin or wrinkles on the décolleté area. This incision also allows for the removal of submental fat (also known as a double chin).

Neck liposuction is also available

to address unwanted submental fat for patients with good neck skin elasticity and health.

Your surgeon will then tighten the underlying tissues and muscles with

internal sutures

.

Once the underlying issues are addressed, excess and sagging skin will be trimmed away.

Before the incisions are closed, your surgeon will tighten the remaining skin to give your face a more contoured and defined appearance.
Because the entire face (surface and below surface) is addressed, you can expect to have complete facial rejuvenation after your facelift.
Facelift surgery addresses the bottom two-thirds of the face (beneath the eyes to the jawline). Additional surgical procedures are needed to address the upper region of the face. These include brow lift surgery and eyelid surgery (blepharoplasty).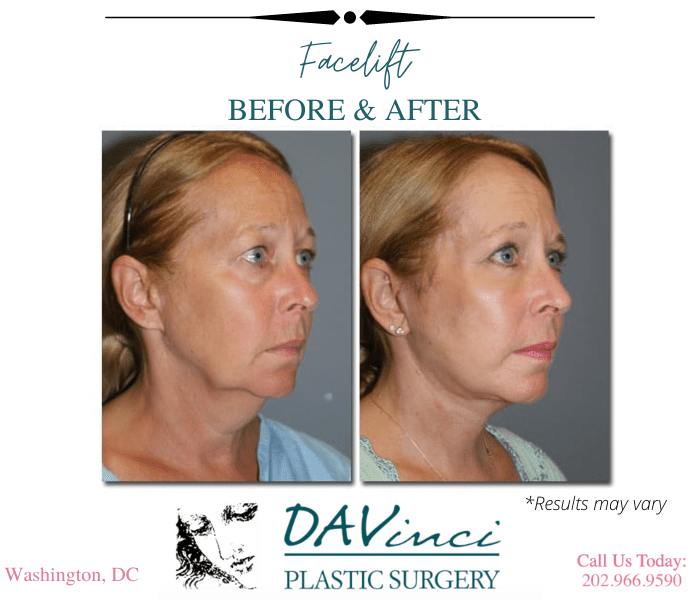 To see more transformative examples of facelift surgeries performed by the experts at DAVinci Plastic Surgery, view our before and after photo gallery.
What Extra Non-surgical and Minimally Invasive Enhancements Are Available for the Face?
As we age, we can lose volume in our face (especially in our cheeks, jawline, and under our eyes), which makes us look gaunt and older than we are.
And while facelift surgery can transform the appearance of your face, this procedure cannot correct volume loss. Instead, dermal fillers and facial fat transfer are two options you have to restore lost volume in your face.
And the best part about these options is that they can be performed to enhance a facelift or performed as standalone procedures.
Dermal Fillers
Dermal fillers (or facial fillers) are injectable treatments that use hyaluronic acid (HA) to attract and retain moisture in your skin, creating increased volume in your face.
At DAVinci Plastic Surgery, we are proud to offer different dermal filler options, including JUVÉDERM®, Restylane®, and BELOTERO BALANCE®.
Each of these fillers can be used to address specific facial issues, including lost volume and wrinkles such as marionette lines, smile and frown lines, and issues with the nasolabial folds.
Dermal filler results can last up to one year before requiring maintenance treatments.
Facial Fat Transfer
Also known as facial fat grafting, facial fat transfer offers a longer lasting improvement to facial volume than what can be attained with dermal fillers.
For facial fat transfer, fatty tissue is extracted from an area of your body (usually the abdomen, hips, or flanks) through liposuction surgery.
This fat is then processed and purified before it is strategically injected into areas of your face. With this procedure, the fat from your own body fills in areas of lost volume while also smoothing wrinkles and fine lines to give you a more balanced and youthful appearance.
Alternatively, some patients choose to combine their facelift with volume enhancement procedures like cheek augmentation (with cheek implants).
Interested in Learning More about
Facelift Surgery in Washington DC
?
If you have questions about facelift surgery or any of the other procedures we offer at DAVinci Plastic Surgery, give us a call at 202-966-9590 or scroll down to fill out our online contact form and schedule your consultation.