3 Minute Read:
There's no hiding your face from the world.
This means that facial imperfections can make women and men feel self-conscious, and whether from genetics or age, underdeveloped or thinned-out parts of the face can really be frustrating.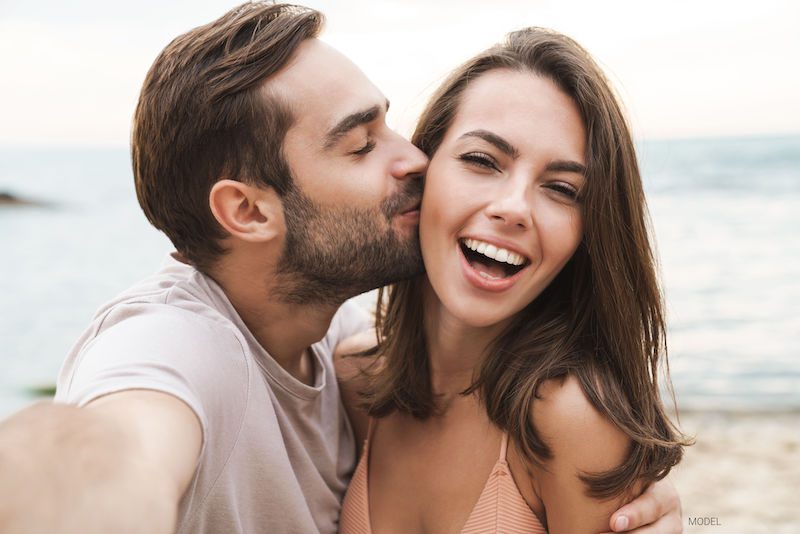 The good news is that there's no need to worry about the thin appearance of your face since facial implants can help recontour your face so that you look and feel your absolute best.
Whether you want to reshape your chin or cheeks, there's an implant to help.
This blog will look at each of these types of implants and discuss how they can benefit you!
What Are Facial Implants?
Just as breast implants improve the size, shape, and volume of the breasts, facial implants enhance the structure of specific areas of the face. These implants are made of silicone, meaning they will be long lasting and can give you the specific shape and appearance you're looking for.
Chin implants (chin augmentation) give women and men a stronger, more pronounced chin. This is helpful for patients with a naturally recessed and underdeveloped chin, which can often make the entire face look unbalanced or weak.
Cheek implants (cheek augmentation), on the other hand, can be used to fill the cheeks, which often suffer from volume loss over time.
With each implant option, Dr. Davison or Dr. Pinell will make an incision inside the mouth (for no external scarring) and tunnel the implant into place before closing the incision.
Since there is minimal downtime with these procedures, you'll be ready to show off your stunning and transformed appearance in little time.
What Are the Benefits of Facial Implants?
Besides improving confidence in how you look, facial implants offer a variety of benefits for women and men.
First and foremost, women and men of all ages can benefit from facial implants. Because these implants typically last a lifetime, young patients can have an implant procedure and know they will continue to look their best for years. And older patients who have experienced volume loss (especially in the cheeks) can look forward to a healthier, fuller appearance.
Another benefit is that your implants are completely customizable to your desires. Because no two patients have the same needs and aesthetic goals, your plastic surgeon at DAVinci Plastic Surgery will work with you to find a facial implant that matches your needs.
Whether for the chin or cheeks, facial implants help women and men achieve a more proportionate, balanced, and attractive appearance.
What About the Lips?
Another area of the body that causes many people to feel self-conscious is the lips. Maybe you were born with thin lips, or maybe your lips have become thin as you age. Either way, non-surgical injectables can augment the size of the lips to give you the perfect pout you want. And injectables can do more than just improve the volume of the lips.
Dermal fillers (like JUVÉDERM® and Restylane®) and neuromodulators (like BOTOX® Cosmetic and Dysport®) can help smooth unwanted lines and wrinkles in your face to improve your overall appearance.
Are There Alternatives to Facial Implants?
Facial implants offer long-lasting and customizable facial augmentation results; however, they are not the only options available.
Women and men who are interested in a less permanent facial augmentation option can consider non-surgical dermal fillers or facial fat transfer. These options can add volume to the face, including the cheeks and chin.
However, unlike implants, these alternative options are not permanent. Dermal fillers tend to last between 12 and 18 months. Facial fat transfer lasts much longer (several years or more); however, because it is your natural fat, it will be susceptible to natural weight changes over time.
Want to Learn More About Implants?
If you have questions about facial implants or any of the other procedures we offer at DAVinci Plastic Surgery, then give us a call at 202-966-9590 or fill out our online contact form to schedule your consultation.