4 Minute Read:
Breast augmentation (implant surgery) is designed to provide long-lasting results, but they aren't permanent. There comes a time when a woman may want or need to have her implants removed.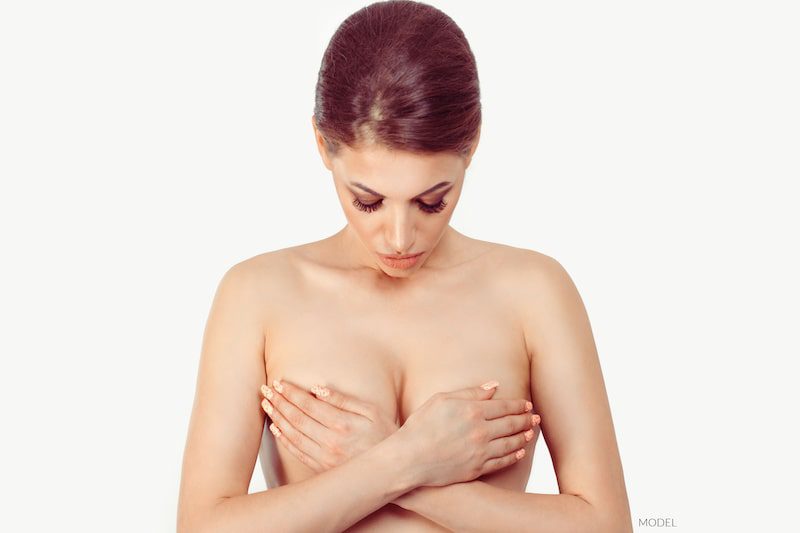 There are several things to think about when considering breast implant removal or revision, and these will depend on your unique circumstances.
The most common reasons we see for patients wanting to have their breast implants removed include the following:
1. You Want to
Change the Size of Your Breast Implant
The number one complaint after breast implant surgery is that the implants aren't big enough. Alternatively, another issue is that they may be larger than you thought they would be.
Either way, at some point, after recovery is complete and you are clearly unhappy with your results, talk to your surgeon about when you could undergo a breast augmentation revision (secondary breast surgery).
If you want to go smaller, your doctor may suggest you have the procedure soon to avoid the breast tissue from being stretched any more than it has.
When this happens, you may need a breast lift as well.
2. You Want to
Change the Type of Implant
If you opted for saline implants, you might be unhappy with the shape of the implants, or you may have experienced implant rippling, and the edges are showing through your skin.
In this case, you may want them replaced with silicone implants.
Breast revision allows you to swap any aspect of your implants, be it filling material, size, shape, or profile.
3. You Have Developed
Capsular Contracture
In some cases, a hard tissue capsule forms around one or both implants. The capsule tightens and squeezes the implant causing chronic pain and breast implant distortion.
Treatment involves surgical removal of the implant and breaking up the scar tissue. A new implant can often be placed into the new pocket immediately.
To prevent a recurrence, post-augmentation implant massages are recommended.
4. You Are Experience Other Complications: BII,
Rupture
, and Distortion
Other complications can cause women to have their breast implants removed. One is breast implant illness or BII; this is a collection of symptoms that many believe are caused by breast implants.
These include:
Chronic fatigue

Headaches

Joint and muscle pain

Respiratory symptoms

Hair loss

Skin rashes

Dry mouth and eyes

Poor memory and difficulty focusing

Depression and anxiety

Insomnia
Alternatively, breast implants can develop tears, causing them to leak or rupture. Ruptures are easier to detect with saline breast implants because of the noticeable deflation (the saline is harmlessly absorbed by the body).
Silicone implants require an MRI to determine if a leak exists. Modern silicone implants are made of form-stable cohesive silicone gel which helps the material stay within the shell and breast pocket in cases of rupture.
5. Your Implants Are Old and Worn Out
Implants are not expected to last forever. Eventually, they will likely need to be replaced.
If you have had your implants for over a decade and notice some changes, you may opt to replace the implants with bigger implants or undergo a breast lift with or without replacement implants.
You really don't need a specific reason to have your implants removed; you may just want to have natural breasts. However, if you do choose to have your breasts removed and not replaced, you are likely to need a breast lift to tighten the natural breast tissue.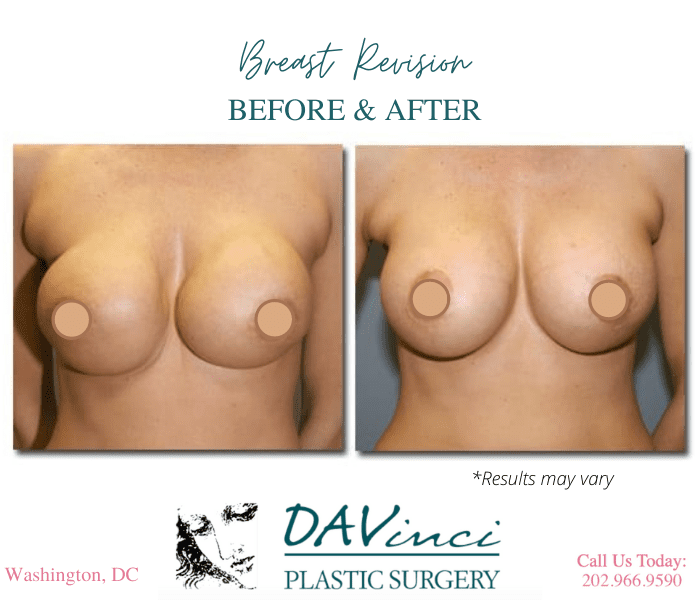 Visit our breast revision before and after gallery to see more transformations.
Why Choose
DAVinci Plastic Surgery for Your Breast Revision
?
At DAVinci Plastic Surgery, we have worked hard to create a relaxing and trusting environment for our patients and are committed to their wellbeing. You can trust our plastic and cosmetic surgeons to bring you the highest level of quality in each and every procedure they perform.
Dr. Steven P. Davison is one of the only triple board-certified plastic surgeons in the Washington, DC, area. He is also a Fellow of the American College of Surgeons.
Dr. Ximena Pinell is double board-certified in aesthetic and reconstructive surgeries.
Interested in Learning More about Breast Revision in Washington DC?
If you want to discuss any concerns about your breast implants or other aesthetic goals, give us a call at 202-966-9590 or scroll down to fill out our online contact form and schedule your consultation.