2 Minute Read:
As we age, the skin of the neck (along with the rest of the face) loses elasticity and begins to loosen and sag. This leads to a "turkey neck" appearance or vertical banding of the neck that makes you look much older. Loose skin and muscles can also be accompanied by excess fat under your chin, leading to the loss of jawline and face angularity.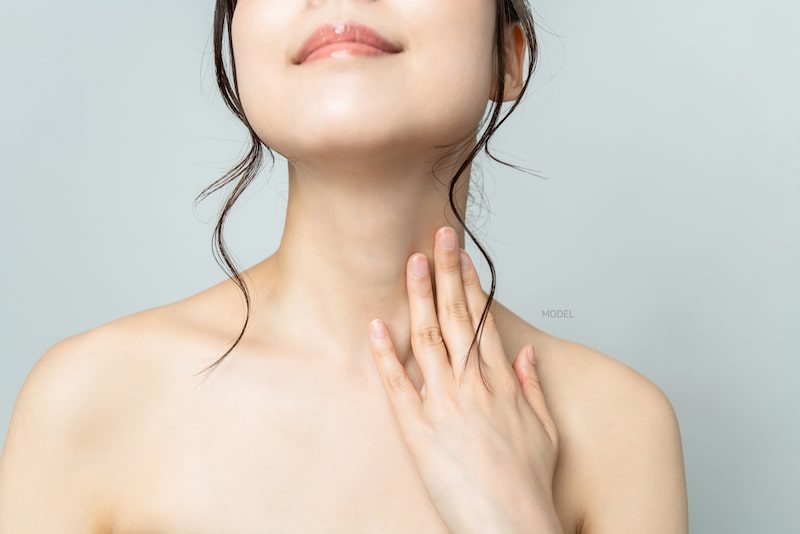 Achieving a more contoured neckline through plastic surgery is the most effective way of reclaiming your youthful looks. Unlike the face, you can't temporarily fix sagging skin with fillers or skin firming creams. Cosmetic surgery and treatments are your top options!
Neck Contouring Options: Neck Lift Vs. Neck Liposuction
Neck lift surgery and neck liposuction are two of the most popular neck contouring procedures for patients seeking to improve the neck contours and restore a more attractive jawline.
Although neck liposuction and neck lift surgery are both procedures that improve the neck's appearance, they treat two different issues. It's important to know the difference between the two and what results you can expect.
How Neck Lift Works
If your neck exhibits moderate to severe sagging, a neck lift can reposition sagging skin and remove its excess and/or tighten loose neck muscles to restore a smoother and better-defined neckline. Your neck lift procedure can be incorporated into a facelift when your skin concerns extend up into the mid-face.
Benefits of a neck lift include:
Reduction/elimination of neck banding

Reduced appearance of neck wrinkles and creases

A more defined jawline

Improved neck appearance

Long-lasting results
How Neck Liposuction Improves Neck Contours
For patients with the dreaded "double chin" or that unattractive fullness underneath the chin, neck liposuction is recommended to enhance the area and balance facial features.
With neck liposuction — also referred to as submental liposuction — excess fat below the jaw is removed to create a more sculpted contour. A notable benefit of the procedure is that the harvested fat can be used to reverse significant facial volume loss with fat transfer techniques.
Neck liposuction, when performed alone, is ideal for younger patients with stubborn neck fat and good skin elasticity, as the skin can still contract sufficiently after surgery. For patients with excess sagging, a neck lift surgery will be performed in conjunction with liposuction to achieve a more defined profile.
Therefore, if your skin has lost its elasticity, neck lift surgery or a combination of the two procedures is the only way to achieve a more delicate, naturally youthful neck contour.
Let DAVinci Plastic Surgery Help You Choose the Best Neck Contouring Procedure for You!
During your consultation, Dr. Davison or Dr. Pinell will evaluate your neck area and skin firmness to develop a custom treatment plan that addresses your specific concerns.
Contact us today at 202-966-9590 or fill our online contact form to schedule a consultation with our highly experienced plastic surgeons.