3 Minute Read:
For men, women, and children with large or overly prominent ears, everyday life can feel frustrating, especially if they are victims of cruel taunting and bullying by their peers. Fortunately, otoplasty (ear pinning) can offer a relatively simple solution to the problems associated with the size, shape, and prominence of the ears.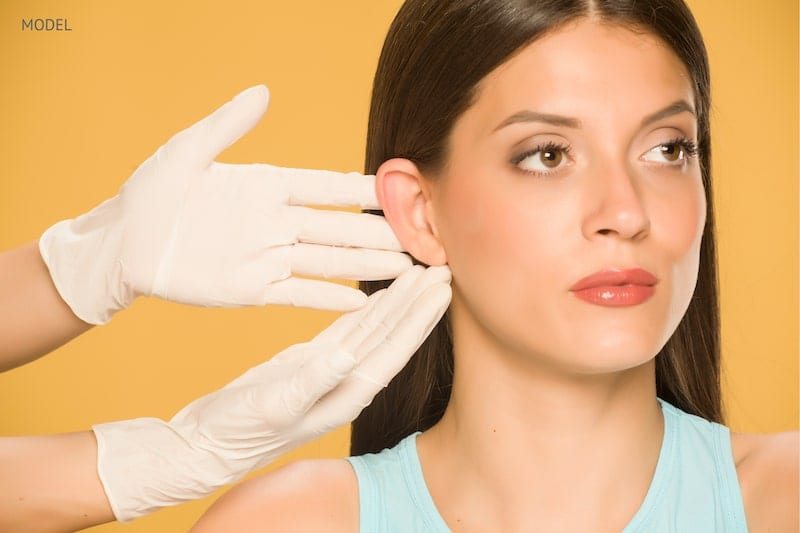 The ear pinning surgery is commonly performed on children of ages six to 14. By the time a child is six, the ears are almost the size they will be as adults. That means they are ideal candidates for the procedure.
While there are significant benefits to otoplasty as a child (children tend to heal well and quickly, and because they are getting the treatment at a young age, there is less opportunity for others to criticize their ear appearance), adults can also benefit.
Can I Get Otoplasty as an Adult?
Adults are often interested in the procedure for the same reasons parents seek cosmetic ear surgery for their younger children.
Perhaps your parents never explored otoplasty surgery for you and are wondering if you might be too old for the procedure. Well, it is never too late to have the ears you have always wanted.
Many adults have successful otoplasty surgeries each year, helping them gain more confidence and express themselves more freely.
What Are the Benefits of Otoplasty as an Adult?
One of the most significant benefits of getting otoplasty done as an adult is you will be more careful with the aftercare, reducing the likelihood of developing a post-operative infection. A headband-like bandage must be worn for a short time during recovery, and proper aftercare must be observed.
An adult is more diligent about post-operative care, which helps facilitate a better outcome of the procedure.
The procedure also provides a number of psychological and physical benefits for adults with abnormalities in the structure of the ear. Many adults with large, misshapen, or protruding ears spend most of their lives feeling self-conscious about their appearance, so it helps to finally get that out of the way and enjoy a life-changing transformation with increased self-confidence.
Further, an adult patient is better suited to make an informed choice and understands why they would need the surgery, instead of a young child who may have the procedure performed because it is their parent's choice and not entirely theirs.
How Long Is My Otoplasty Recovery?
Recovery is unique for every patient, though most individuals can expect to return to work and light activity in about seven to 10 days. Full recovery can take up to six to eight weeks as the swelling subsides.
Interested in Learning More?
If you are dissatisfied with the look of your ears and want to transform your appearance with an otoplasty procedure, don't hesitate to contact us at 202-966-9590 or fill our online form to schedule a consultation.
It is extremely important that you choose a highly skilled surgeon in adult otoplasty. At DAVinciPlastic Surgery, we work with each patient individually and recommend a customized surgical plan to help achieve your ideal results.