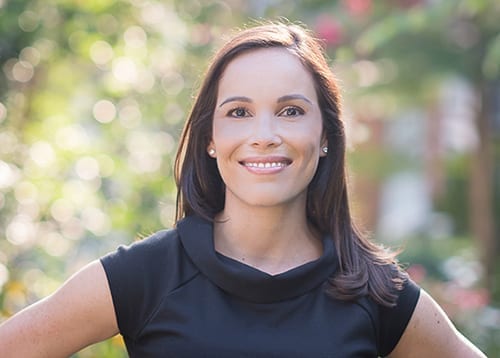 Ximena Pinell is a plastic surgeon dedicated to treating patients seeking aesthetic surgery of the face and body, as well as patients with complex reconstructive needs.

Ximena Pinell es una cirujana plástica dedicada al tratamiento de pacientes que buscan cirugía estética de la cara y el cuerpo, así como pacientes con necesidades reconstructivas complejas.

Training and Education

Dr. Pinell is a native of Potomac, Maryland, and her joining DAVinci Plastic Surgery represents a very exciting homecoming. She attended college at Georgetown University and graduated magna cum laude with a B.A. in Economics. After working for a few years in D.C. doing health policy research, her aspiration to become a physician became clear, and she moved to Atlanta to complete medical school at Emory University.

Early in her medical education, she was taught by some preeminent leaders in Plastic and Reconstructive Surgery and elected to stay at Emory for General Surgery residency and a subsequent fellowship in Plastic Surgery. While at Emory, Dr. Pinell was trained by some of the most highly regarded and innovative plastic surgeons in the world from whom she learned many advanced techniques, most notably in aesthetic surgery and breast reconstruction.
Surgical Areas of Interest
Dr. Pinell has a special interest in breast reconstruction and believes it is a great privilege to work with women battling breast cancer. She employs various techniques that utilize a woman's own tissues to recreate the breast, as well as novel approaches to breast reconstruction using implants, such as the prepectoral (above the pec muscle) technique. For women who are candidates for and elect to undergo breast conservation, Dr. Pinell employs a wide variety of oncoplastic techniques that minimize distortion of the breast following lumpectomy.
Dr. Pinell's other areas of interest include aesthetic breast and body contouring procedures, such as:
breast augmentation
mastopexy (breast lift)
liposuction
abdominoplasty
dermal fillers
Botox and Dysport
Dr. Pinell also enjoys performing body contouring procedures after massive weight loss and combinations of procedures frequently sought by moms who wish to reverse the physical changes that accompany pregnancy. These operations often deliver remarkable transformations and vast improvement in body image and self-confidence.
Cultural Background
Though she grew up in the Washington, D.C. area, Dr. Pinell's family is originally from Bolivia, where she spent many memorable summers in her childhood. More recently, she seized the opportunity to travel home and use her plastic surgery skills to serve needy Bolivian children with cleft lip and palate. She has participated in 3 cleft mission trips to Santa Cruz, Bolivia and hopes to continue this incredibly gratifying commitment. She speaks Spanish fluently and enjoys caring for patients who are more comfortable connecting with their physician in their native language.
Personal Life
When she is not in the operating room or the office, Dr. Pinell enjoys spending time outdoors with her husband as they chase after three rambunctious young boys.