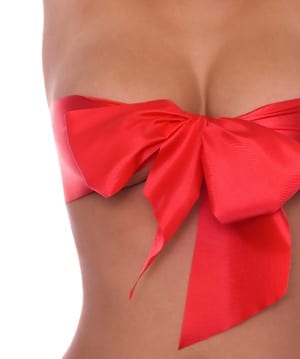 Every woman has her own idea of the "ideal breast." Many women are born with breasts that are too small and many women dream of larger, well proportioned, symmetrical, and not droopy or sagging…but sexy breasts. I have found this to be true among women of all ages and stages in life.
Today's women consider their breasts to be their most feminine attributes and many women are choosing procedures that will create their ideal breast including breast rejuvenation for aging sagging, deflated breasts…or implants, fat grafting and breast lifts for restoring more youthful breasts, or breast reduction for overly large, too heavy breasts…or a combination of these to create their "ideal breast."
In this blog I cover a few common breast myths with more information on the procedure options, in future blogs.
When it comes to breast options, going bigger, smaller or lifting the breasts to a more youthful position requires correct understanding and knowledge of what these procedures entail. There is a lot of misleading information that affects perception and can lead to poor choices.
MYTH #1…Breast Lifts are the only way to "lift" the breasts. Breast Lifts work effectively for breast lifting if skin elasticity is good, there is a minimum of ptosis (sagging) and the nipple position will allow it. However, implants are often chosen instead of a surgical lifting, for added volume and shape. Lifting with implants can be achieved if the right type of implant is used in the right patient.
MYTH #2…A Breast Lift achieves permanent perky breasts, elevated to a more youthful position. Truth is: "nothing is forever." Aging cannot be stopped…but we offer many age defying options that can slow it down a bit…and rejuvenate aging areas of the body. A Breast Lift settles into position within a year after your surgery…this often appears as falling or drooping when in fact it's just fullness being redistributed to the bottom of the breast. As you age, your breast continues to age also and over time can become droopy again. In the meantime, you can look years younger!
MYTH #3…Fat transfers ensure that your breasts are immune to future weight fluctuations and related breast changes. FALSE! Truth is:…the breasts are affected by weight gain/loss just as much as the rest of the body. There is little you can do to avoid these changes if you are subject to weight fluctuation. So if you plan to have a Breast Lift with or without implants or fat grafting injections, maintaining a healthy weight is the best way to prolong the wonderful, youthful results of your Breast Lift.
I have performed hundreds of Breast Lifts and by combining my honed surgical and artistic skills with todays advanced surgical science…my patients enjoy long lasting, outstanding, natural looking results. Choose your surgeon wisely!
The next blog will cover Breast Implants. Today's implants are very natural, offer a host of sizes and shapes which means they can be "customized" to your personal needs and goals. They are safe, effective and longer lasting. Women love them!
Holidays and Christmas Wedding are coming soon. If you've been thinking about an anti aging, age defying makeover, now is a great time to get it done…to look your absolute best…for now and for years to come.
Stay Well and Healthy! Steven Davison M. D.
DAVinci…where I combine the supreme elements of art and surgical science.