This decade ushers in droopy brows, volume loss in the lower facial third and deep neck bands from loose, baggy skin. These changes will be much less drastic if you started doing anti aging procedures in your 30's or 40's.  But, it's never too late to start.
The goal is balance.  Each part of the face ages at a different pace. If you can address these changes, as they occur in each area…you can maintain a natural balanced look, which allows the face to continue aging as a whole.  For example:  if you focus only on the eyes and do not include the brows or upper cheeks, you will age with a disjointed look between one facial feature and another.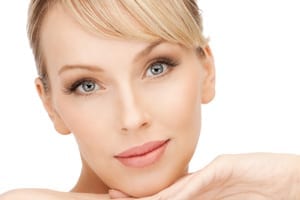 ANTI AGING OPTIONs – Traditional Facelift Having a facelift in your 50's and 60's slows facial aging so you'll always look at least 10 years younger than you really are.  There are several facelift variations (see previous blog) but the goal is: to restore natural curvatures to your facial features while maintaining the right amount of volume in the right places.  Men and women in this season of their lives opt for facelifts when injectables and other noninvasive treatments fail to work as effectively as they once did. A facelift done at this age lasts for years and may only require minor touch ups such as excess skin removal later in the 70's.
Blepharoplasty – Corrects hollows, under eye bags and volume loss around the under eye area and sagging, bags and deep grooves of the upper eye area as well as volume replacement.
Browlift is the option of choice when injectables fail to give the needed lift.  Browlift restores the brows back to a more elevated and natural looking, more youthful position.
Necklift removes loose skin and fat, which is always a dead giveaway to your true age. Liposuction is often used to remove excess fat deposits and help sculpt this area.  The results are long lasting and help to restore facial balance.
Many Hollywood celebrities in their 60's look 40ish. Many admit they have had work done all through the aging process in order to stay looking younger, healthier and more vibrant.  Goldie Hawn, Susan Sarandon & Morgan Fairchild look fabulous…just to name 3 of the many celebs.
Fillers vs. Surgery…this is of course the most common question.  I answer in my next blog.
Helping You Keep Your Best Face Forward,