A couple blogs ago I talked about 2014 social trends in cosmetic treatments. Please see my January blogs to catch up on those.  This blog covers actual "hot" treatments, both surgical and non surgical as well as new product.  With each passing year, we become more artistic, skilled and experienced.  Today's plastic surgeons enjoy the benefits of being able to achieve more advanced age defying procedures/treatments that get you truly natural results.
HOT ANTI AGING BEAUTY TRENDS for 2014
1.  Juvederm® Voluma is making it's "beauty debut" in 2014.  Approved late in 2013 by the FDA, this designer filler will target the cheeks or mid face region to add volume and restore fullness lost due to normal aging.  It will greatly enhance facial symmetry.
We expect more "designer" fillers to enter the US in 2014.  Will keep you up on those!
2.  Fat injections has been rising in popularity the past decade.  I really like and recommend it to my patients because it is natural (your own body fat) and it enables great results.  Fat Grafting or Fat INjections is used primarily to treat facial aging but certainly has proven safe and effective for the hands, and other areas on the body as well.
An increased interest in treatments using your own body fat has surged due to the healing and regenerative potential of "growth factors" etc found in body fat.  More on that as research progresses.  Exciting!
3.  Beautiful Lips…or the new "It" spot in beauty treatment options. Gone is the "trout pout" but here to stay is a well plumped pucker…especially for Valentine's Day.  Overfilling the lips has been a problem, especially when performed by non expert injectors.
Today's Fine Art of Lip Enhancement is here to stay.  With advancements in lip augmentation using techniques that work right, honed skills and experience (Expert Injectors), the Fine Art of Lip Enhancement achieves subtle, soft and kissable lips!
4.  Rhinoplasty continues to soar in popularity.  Rhinoplasty (nose surgery) is the most common surgery for both men and women under age 35.  It is the most in demand for men, period.  It is so popular that surgeons have coined it "rhino popularity" and it's here to stay.
Rhinoplasty is a very difficult, intricate surgery.  No two noses are alike and each person has their own reason for wanting a nose job.  Injury, disease or just not liking the nose you were born with sends people in surges to plastic surgeons across the US.  See my website for detailed info on Rhinoplasty: www.DAVinciplastic.com.
I'm a member of the AAFPRS- American Association of Facial Plastic and Reconstructive Surgeons. This organization maintains stringent standards for members in order to protect you our patients.  I'm proud to part of this elite organization that promotes only the safest, most advanced yet proven medical options available today.  We're here to employ our skill, artistry and expertise.  Truly, you want to trust your face only to a Facial Plastic Surgeon.
AMERICA'S TOP 5 FITTEST CITIES and Washington, D.C. ranks #2!  Ranking is based upon fitness levels such as an area's health behaviors, health care acces and community resources that support physical activity.  (American College of Sports Medicine)  Yes we are proud to be part of this community!
Next time I plan to expound upon these new trends.  My goal is to inform, educate and motivate you to be as healthy and youthful as you feel.  We can help you be your very best!
Steven Davison M.D.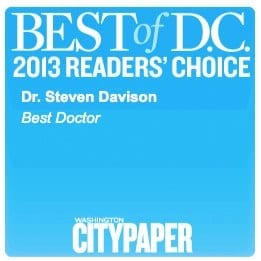 Triple Board Certified Facial Plastic and Reconstructive Surgeon