2 Minute Read:
It's not uncommon for women to choose genital cosmetic surgery to enhance or rejuvenate their intimate area's appearance or alleviate symptoms and feelings of extreme self-consciousness.
Childbirth, aging, trauma, genetics, or weight gain can take a cosmetic and functional toll on a woman's genital area.
Monsplasty and labiaplasty are some of the most commonly performed procedures that seek to address a less than satisfactory genital area. It's important to understand the difference between the two procedures since they correct different conditions.
What Is Monsplasty?
Monsplasty is a procedure designed to reduce bulging of the mons by tightening the underlying muscles and tissues. Many women with an enlarged mons pubis (the area between the lower abdomen and the pubis) find shopping for clothes very difficult due to the bulge of excess skin and fat that can show through certain types of clothing or during certain activities. The excess skin may interfere with normal vaginal function and urination as well.
What Does Monsplasty Do?
Having a monsplasty procedure performed can help you achieve a flat abdomen, leaving you with a more aesthetically pleasing contour and improved vaginal function. This is done through a small incision below the bikini through which the excess fat is suctioned and sagging skin is sculpted and tightened to enhance the pubic mound.
What Is Labiaplasty?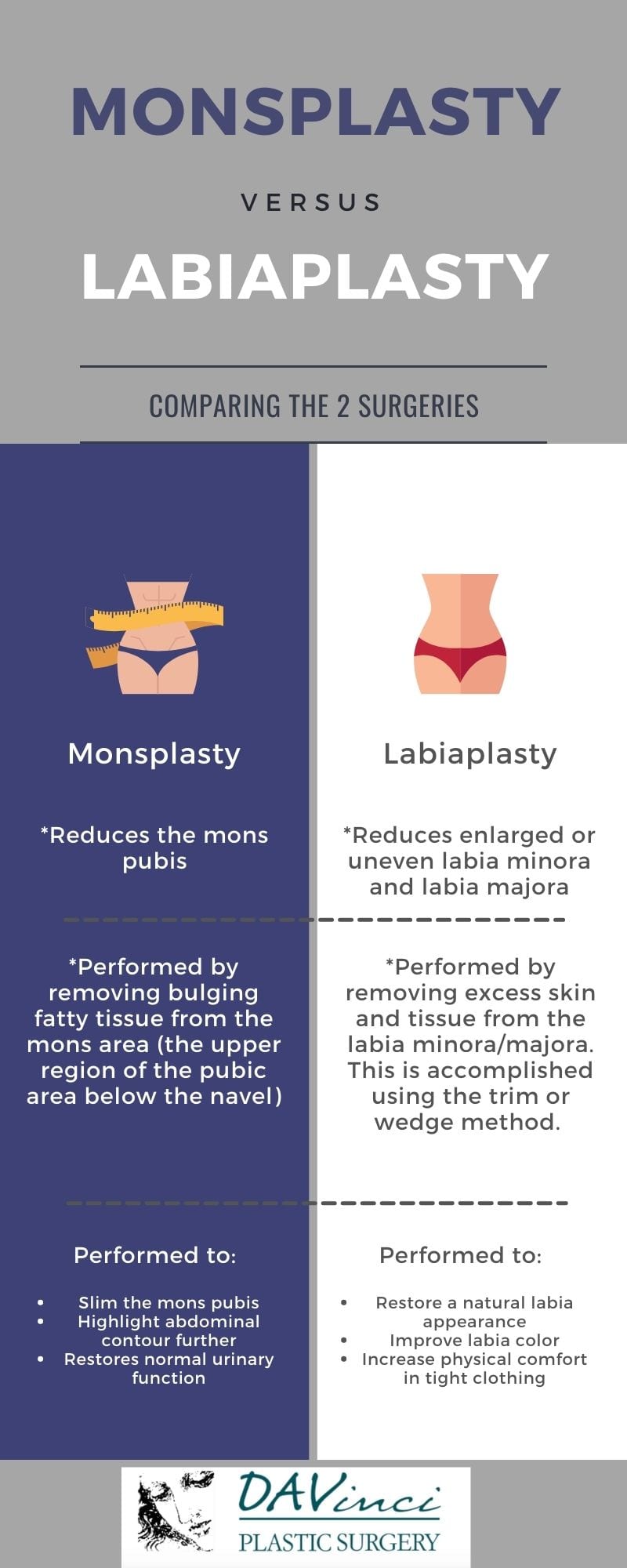 Many women may experience enlarged inner or outer labia or develop excess labial tissue, particularly after childbirth. Large labia may interfere with regular activities like exercise or sexual intercourse or create an undesirable appearance in certain clothing choices, e.g., fitness leggings or swimsuits. This can cause discomfort as well as hygiene challenges, skin infection, and friction as a result of the protruding labia.
What Does Labiaplasty Do?
These concerns can be addressed with a labiaplasty procedure, which aims to reshape and reduce the size of the labia, making it more natural-looking and functional.
Depending on the specific needs and goals of a patient, your surgeon will use various techniques to guarantee the best possible outcome. The trim technique reduces the size of the labia minora while the wedge procedure removes a wedge of tissue from both sides of the labia, and then the remaining edges are stitched together.
Interested in Learning More?
If you are looking for ways to enhance your mons pubis area or want to reduce the size of large or sagging labia, we can help. Both procedures are very delicate and will require the best surgeon's hands. Our surgeons will work with you through each step to deliver the results you desire.
Contact us today at 202-966-9590 to schedule a consultation and determine what procedures will be needed to help rejuvenate your female genitalia.