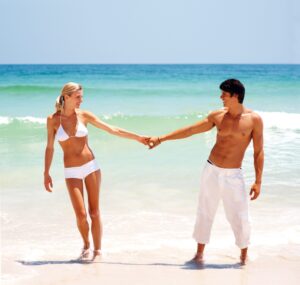 Bikini Ready Body with Liposuction
While the snow is blowing and frozen weather is keeping us bundled up, getting into a bikini is probably a distant dream. But now is a better time than you may think to start getting your body ready for the bathing suit season. Here's why:
bulky bundled up clothes hide any swelling, bruising and over night body changes
frigid weather makes us all want to just cozy up by the fireplace and rest our bodies
the extra layer of post op compression clothes fit nicely as another layer for warmth
Is liposuction right for you? Whether it's genetics or aging, some of those stubborn fat pouches just won't come off with diet and exercise. If you are in healthy condition, liposuction can help sculpt and smooth them away. This procedure isn't intended to be a complete body transformation surgery, but it is safer and more effective than ever if you're in the right hands.
The best results in the best hands… Depending on the state, some laws allow licensed physicians to designate themselves as "plastic" or "cosmetic" surgeons, even if they have no specialized surgical training. This is why is it is crucial for prospective patients to select their doctor with care. I am one of the only TRIPLE BOARD CERTIFIED surgeons in the Washington, DC area. My outstanding reputation is spoken through my satisfied patients, years as a professor at Georgetown University, hundreds of articles on surgical procedures and safety, and many awards and elections to prestigious surgical societies. Liposuction may seem like a very simplified surgery compared to others, but as with any surgery, there are risks and so the safest most effective results are accomplished in the best hands.
What does liposuction involve? After our consultation, the surgery will be schedule to take place in our state of the art surgery outpatient center. To ensure your comfort throughout the procedure, you will receive anesthesia including an infusion of saline solution with lidocaine before your surgery. Liposuction requires one or more incisions so that the cannula, a small tube used to loosen the fat, and a vacuum attached to it, safely suctions excess fat and sculpts the area. The. For small areas, such as the face, a syringe can precisely harvest fat that can be purified and used for grafting other areas.
Liposuction for the large and small areas… The advances in technology, specialized tools, and my expert techniques allow me to target large or very small localized areas with more precision and less trauma than with older techniques that still may be used by other surgeons.  Liposuction can be used to remove fat from the:
tummy
breasts
thighs
buttocks
back
face
neck
Liposuction along with other procedures… Liposuction is an ideal compliment to other body contouring procedures, such as a Butt Augmentation, Thigh Lift, and Tummy Tuck. Any of these could be part of a much desired Mommy Makeover to restore your body after all the changes that take place through childbearing.
Start preparing your body now for those warm weather months that may seem so far away, but will be here before you know it. Banish those stubborn bulges with liposuction. Visit www.davinciplastic.com.
Dr. Davison