3 Minute Read:
It is finally the holiday season! With Christmas coming up, you may be trying to figure out what gifts to get the important people in your life, but what about yourself? You deserve to feel confident in all areas of your life. Give yourself the gift of confidence by finally undergoing the plastic surgery procedure you have always wanted. Many procedures work to correct the common insecurities among men and women.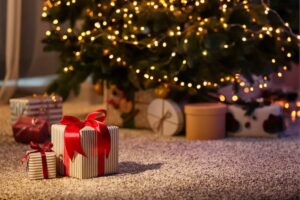 Use this guide to determine which plastic surgery procedures you will benefit your confidence levels the most this Christmas.
What About Breast Augmentation?
Large, firm breasts are often considered to be a sign of femininity. Women with small breasts often feel self-conscious and unhappy with their breast size. Breast augmentation surgery uses implants to enhance the size and shape of your breasts, giving you the appearance you have always dreamed of. If your unhappiness with your breasts' size is holding you back, breast augmentation surgery can give you the confidence to achieve anything.
What About Breast Reduction?
If you have naturally large breasts, you understand the struggles that come along with them. Women with overly large breasts often experience chronic body pain and unwanted attention. Additionally, overly large breasts can make you appear bigger in some clothing. By gifting yourself breast reduction surgery for Christmas, you can increase your quality of life by eliminating body pain and allowing yourself to feel confident in all of your favorite clothes.
What About Gynecomastia Surgery?
Gynecomastia is a medical condition where boys and men develop excess breast tissue, giving off the appearance of breasts. For men, the appearance of enlarged breasts can be embarrassing and emasculating. Gynecomastia surgery removes the excess breast tissue in men to provide a more masculine, defined chest. If you suffer from gynecomastia, you have the opportunity to increase your confidence with gynecomastia surgery.
What About Liposuction?
After losing a significant amount of weight, you may notice that the stubborn fat left on your body seems impossible to remove. Some fat is just resistant to diet and exercise, no matter how hard you try. After working hard to lose weight, the leftover fat can be discouraging. You have worked hard to lose all this weight—give yourself liposuction surgery for Christmas to help eliminate stubborn fat, contour your body, and increase your self-confidence.
What About Rhinoplasty?
The nose is directly in the middle of your face. This is frustrating for people who are insecure and unhappy with the size of their nose because there is no way to hide it. Rhinoplasty surgery can help you feel confident with your facial appearance by resizing and reshaping the nose. If you are insecure about your nose, start the new year right by giving yourself rhinoplasty surgery as a Christmas gift.
Want to Learn More About Plastic Surgery in Washington, DC?
If you are interested in learning more about how you can benefit from plastic surgery procedures this holiday season, call our office at 202-966-9590 or fill out our online contact form.