3 Minute Read:
One of the most common cosmetic complaints from men and women of all ages revolves around wrinkles and lines on the face. These facial imperfections often make people look much older than they actually are.
And what makes matters worse is that some of these wrinkles and lines are not even caused by age!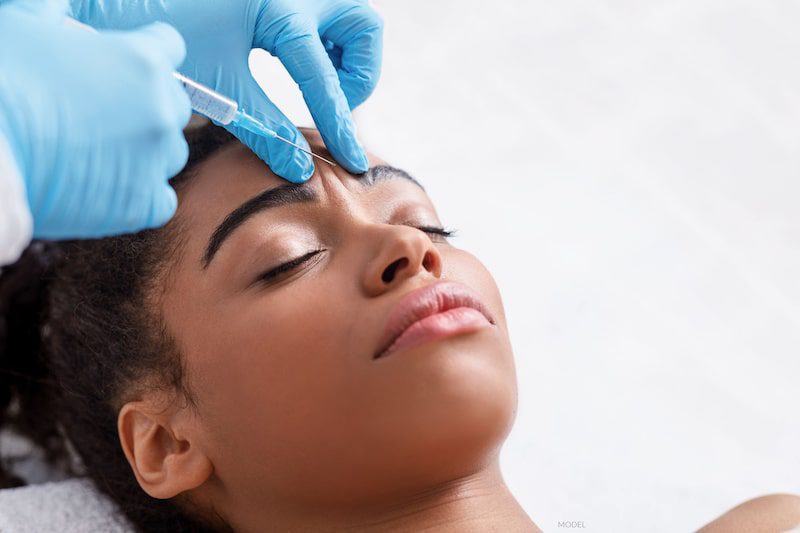 Instead, they are dynamic wrinkles. Dynamic wrinkles are those creases in the skin that are caused from consistent muscle contractions in the face, which can happen from squinting or facial expressions (such as smiling and frowning).
While these wrinkles are frustrating to have, the good news is that there is a treatment to help stop these wrinkles from showing: BOTOX® Cosmetic injections!
BOTOX® Cosmetic is the most popular cosmetic procedure by far. In fact, in 2020, nearly 4.5 million botulinum toxin-A treatments (like BOTOX® Cosmetic) were performed!!
However, even with this popularity and the stunning results that can be achieved from BOTOX® Cosmetic, many people are still hesitant to have BOTOX® Cosmetic treatments for themselves, and one of the main reasons for this is possible side effects caused by this procedure.
Below, you will find more information on exactly what BOTOX® Cosmetic is, how it's performed, and what to expect as far as side effects go.
What Is BOTOX® Cosmetic?
BOTOX® Cosmetic is an injectable treatment made up of botulinum toxin type A.
This treatment is a neuromodulator, which means that the injected neurotoxin (BOTOX® Cosmetic) actively blocks the signals from your muscles to your brain. When this happens, the muscles are unable to contract, and since frustrating dynamic wrinkles are caused from muscle contractions, the wrinkles are unable to form.
In essence, BOTOX® Cosmetic temporarily and effectively paralyzes the injected muscles to allow you to have smooth and wrinkle-free skin.
How Is BOTOX® Cosmetic Performed?
The BOTOX® Cosmetic treatment is very simple.
Your injector will inject the BOTOX® Cosmetic solution into various parts of your face where dynamic wrinkles are present. Unlike other injectable treatments, like dermal fillers (JUVÉDERM® and Sculptra® Aesthetic) the BOTOX® Cosmetic solution is injected directly into the muscle. Once the injections are complete, your treatment is done!
Though it varies for each patient and procedure, most BOTOX® Cosmetic sessions take less than 20 minutes, and since there is no downtime associated with this treatment, you can effectively and safely treat your pesky wrinkles during your lunch break!
What Are the Side Effects of BOTOX® Cosmetic?
No plastic surgery procedure or cosmetic treatment comes without some form of side effects. The three most common of these side effects include: pain or discomfort, swelling, and bruising at the injection site.
The good news with these side effects is that they are extremely temporary and can be managed with ice, over-the-counter medications, and time (usually a few days).
There are other side effects associated with BOTOX® Cosmetic injections, including:
Headaches

Flu-like symptoms

Droopy eyelids

Cockeyed eyebrows

Eye dryness

Muscle weakness
It is important to note two things about these side effects: first, these are very rare, and two, these are temporary, usually dissipating within a few days to a week.
In addition to offering stunning and dramatic results, BOTOX® Cosmetic has been proven in countless studies to be safe to patients with no long-term or life-threatening adverse effects. In short, BOTOX® Cosmetic offers you the chance to look and feel the way you desire without much worry of detrimental side effects.
Interested in Learning More About BOTOX® Cosmetic?
If you are looking to get rid of those frustrating wrinkles on your face, then give us a call at 202-966-9590 or fill out our online contact form to schedule your consultation.