COUPLES  ANTI AGING PROCEDURES ARE THE NORM TODAY... Yes men and women in committed relationships are aging together and many of them are choosing to "age more youthfully" by having cosmetic procedures together.  But, men and women do "age" differently so different procedures are needed to address those concerns.  Facial Aging is the most visible in both genders.  Men, however, are more likely to develop deep wrinkles in their forehead and to experience vanishing chins.  Women typically see finer lines on the face around the eyes (Crow's Feet) or mouth (laugh lines).  Women also experience more sagging skin around the neck (turkey neck).  So, with the rise in Couples Surgery over the past decade, it's important for couples to have their own individual consultation to determine their best anti aging options. For example, both men and women can be treated with Botox (Brotox) or soft tissue filler, but the locations for treatment may differ depending upon the location of those facial wrinkles.  For Men with receding chins, Implants are very effective while women can lose their Turkey Necks with a Necklift.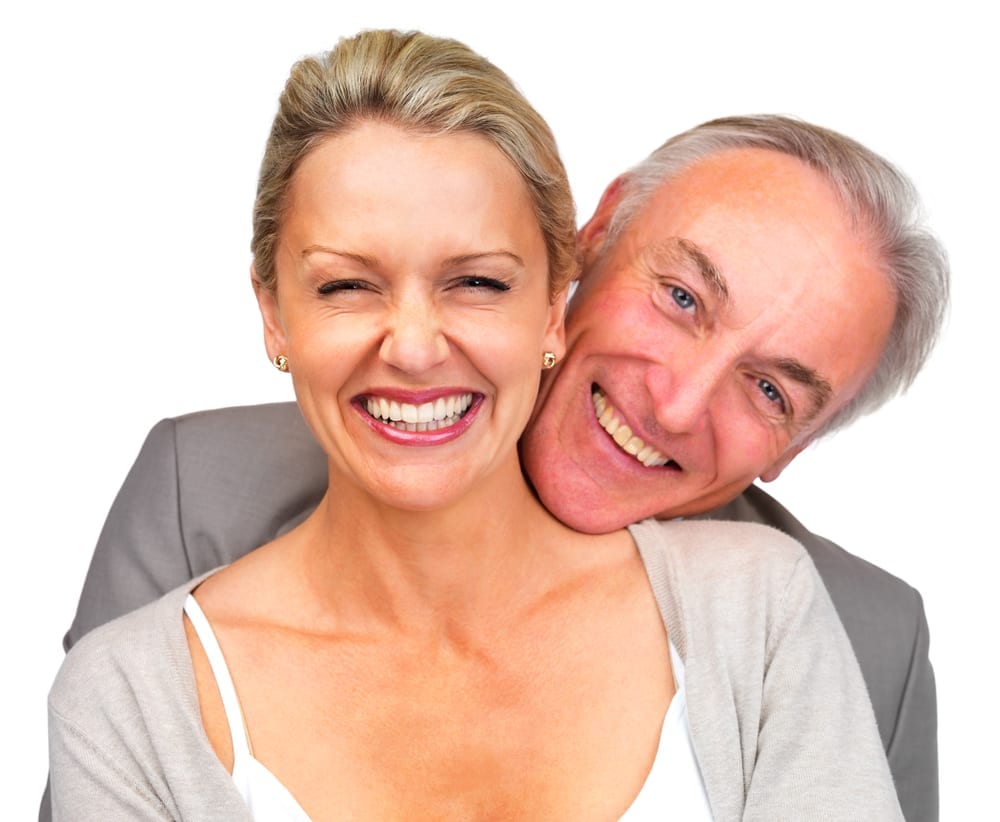 Going in together for procedures is great and encouraging to each other…so come in together and let's talk!
NICKNAMES for BODY CHANGES
Ever heard of Bingo Wings, Muffin Top or Turkey Neck (I just gave you that one!). Well, these are the current nicknames for a few of today's age related changes.  Bingo Wings refer to the flabby, sagging skin underneath the upper arms that often occurs with aging.  An Arm Lift safely and effectively makes this go away restoring youthful upper arms again!  Muffin Top is the name given to that overhanging skin around the waist after you've forced yourself into a slim fitting pair of jeans. This is easily corrected with liposuction and a Tummy Tuck to remove excess fat and sagging skin.  Turkey Neck or Turkey Waddle is the condition of excess, sagging skin under the chin and around the neck that resembles the red turkey waddle.  A NeckLift usually combined with FaceLift remedies this and takes years of aging off the face and neck.  Again, Couples are choosing to address these concerns together in order to "age more youthfully."
SCENARIOS THAT PROMPT THE DESIRE FOR ANTI AGING PROCEDURES:  When you meet someone who has recently undergone a plastic surgery or non surgery procedure, he or she will most likely be able to share their "Aha moment…"  That's the moment it became crystal clear to them they made the right choice. Men and women choose age defying cosmetic procedures for various reasons.  Here are just a few they've shared with me:   1) How old do you think I am?  When an energetic 40 year old has a co worker tell him he looks "50ish" that can send a man flying into my office!  2)  Post Baby Blues…Women are having Mommy Makeovers to get back into shape sooner or for the first time ever!   3)  Social Media..Social Media realizations have made FaceBook FaceLifts popular today!   4)  Major Life Changes/Career Changes can help put things into perspective.

DON'T LIKE WHAT YOU'RE SEEING IN YOUR MIRROR?  LET'S TALK SOON.
Steven Davison  M.D.
Board Certified Plastic Surgeon
"DAVinci…where I combine the supreme elements of art and surgical science."