3 Minute Read:
The nose is the focal point of the face and is often one of the first things people notice. Rhinoplasty surgery can give patients unhappy with their nasal contour the confidence to achieve anything. However, a successful recovery is necessary to obtain ideal results.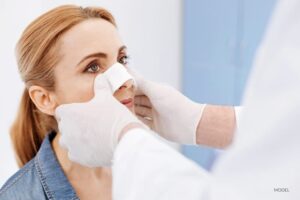 Since the nose is difficult, if not impossible, to conceal, it is important to accept that changes will need to be made; however, if you follow these five easy steps, you will be on your way to a successful rhinoplasty recovery.
1. Rest
One of the most important aspects of a successful recovery is a significant amount of rest. When you undergo plastic surgery, your body goes through a lot (even if your surgery was localized to your nose).
Your body will also use a large amount of energy to heal. It is important to relax in order to gain the energy your body needs to heal and recover properly.
Resting can mean many different things. It can mean getting extra sleep, but it can also mean taking a break from normal daily activities that require energy, such as cleaning, driving, and taking care of your kids. Think of your rhinoplasty recovery as an opportunity to catch up on some well-deserved relaxation.
2. Keep Your Head Elevated
While recovering from rhinoplasty surgery, it is crucial to rest and sleep with your head elevated. This will not only increase comfort, but it will also help minimize bruising and swelling. Elevating your head promotes circulation and reduces fluid buildup.
Unfortunately, your head may fall without you realizing it when you are sleeping. This is why it is important to prop your head up with pillows. Also, if you sleep with a partner, ask them to wake you up if they notice your head is no longer elevated.
3. Wear Your Splint and Bandages
After your surgery, your nose will be bandaged and held in place with a splint. It is important to leave the nose protected for several days. The splint will keep your cartilage and bone in place while they heal. The splint will also help you remember not to touch your nose and prevent any accidental trauma, which will negatively affect the healing process.
4. Use Ice
Icing your face after rhinoplasty surgery can help reduce swelling around the eyes and promote proper healing. It is important to apply ice several times a day, for around 20 minutes each time, for maximum effects.
5. Follow all Post-Operative Instructions
In addition to all of these tips, you will be given instructions on how to properly recover from rhinoplasty. It is important to follow all instructions given to you by your surgeon to ensure proper healing. Feel free to contact your surgeon at any time during your recovery if you have any questions or concerns.
Interested in Learning More?
If you are interested in learning more about rhinoplasty recovery, please give us a call at 202-966-9590 or fill out our online contact form.