2 Minute Read:
Breast reduction is a popular procedure that reduces large breasts' size and weight for an improved breast contour that is better proportioned to a woman's body.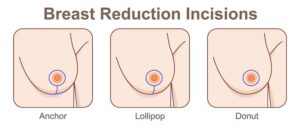 When it comes to breast reduction surgery, there are many different incisions options. The technique used depends on the patient's breast anatomy, the amount of tissue to be removed, and the patient's specific wishes and desired outcome.
What Are Your Breast Reduction Options?
The most popular breast reduction incision techniques include the donut, anchor, and lollipop.
Donut Method
As implied in the name 'donut,' this technique requires two concentric incisions made around the perimeter of the areola. As an added benefit, patients will only have one short scar that can somewhat be hidden by the areola's dark skin.
The downside to this is that it offers limited access to the breast tissue. The procedure is acceptable for a minority of patients with mildly enlarged breasts.
Vertical or Lollipop Method
As for the lollipop technique, an incision is made around the edge of the areola, and another vertical incision is made from the areola down to the bottom of the breast.
Your surgeon will then remove excess tissue and fat and tighten the surrounding skin. This is a variation of the anchor method and is ideal for patients with mild to moderately large breasts. Therefore, if you have extremely large breasts, this will not be a good option as it offers less control than the anchor pattern reduction.
Many patients prefer the vertical breast reduction technique because of its less invasive approach combined with its long-lasting effects. It also offers a shorter recovery time, considering it is less invasive to the body.
Inverted-T or Anchor Method
This is one of the most common techniques, suitable for more substantial breast adjustments. An incision is made around the nipple with the second incision running vertically down from the areola and another along the crease of the breast for a distinctive T-shape pattern.
The excess breast tissue and skin is removed through the incision, and breasts are reshaped and lifted into a more aesthetically pleasing position.
The anchor method allows for a maximum degree of tissue removal, making it ideal for patients who have considerable sagging or asymmetry to correct.
The major drawback to this technique is that it produces the largest scars, so if scarring is a significant concern for you, your doctor may recommend a more preferable technique.
Which Incision Is Right for Me?
During your initial consultation with our board-certified plastic surgeons, you will get a professional recommendation for the best breast reduction technique depending on your breast anatomy, amount of reduction required, and desired outcomes.
Interested in Learning More About Breast Reduction?
Contact us today at 202-966-9590 or fill out our online form to schedule your breast reduction consultation.