3 Minute Read:
Many women wish to undergo a Mommy Makeover after childbirth to regain their pre-pregnancy body and feel like themselves again. Since the surgery is a combination of various procedures, it is important to determine which procedures will benefit you the most.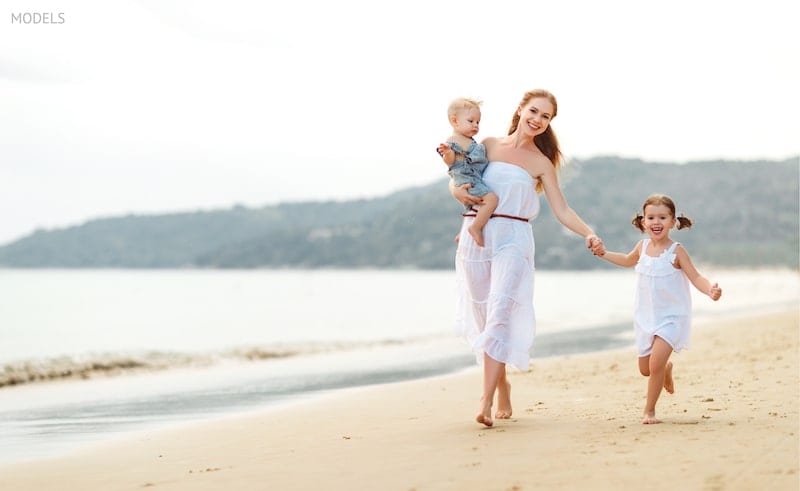 It is expected that the specifics of the surgery will change depending on a patient's needs. While some mothers want to get rid of their bulging belly or eliminate excess skin, others want to enhance the shape and volume of their sagging breasts.
What Are the Most Common Mommy Makeover Procedures?
Both pregnancy and childbirth have a significant impact on a woman's body, so a Mommy Makeover tends to include breast enhancement and a range of body contouring procedures. Individuals can also choose to have additional procedures to address their unique concerns.
Remember, the goal is to create a youthful, more toned appearance, so individuals can look and feel their best in every aspect. Having multiple procedures performed in a single session allows a patient to enhance different areas of the body with a single recovery.
The most common procedures to consider as part of your Mommy Makeover include:
Breast Augmentation
It is common for breasts to droop and lose much of their overall volume and firmness, especially after breastfeeding. As part of your Mommy Makeover, your surgeon may recommend breast augmentation with implants to restore volume and shape and create the more attractive cleavage women desire.
Breast Lift
A lift focuses more on trimming away the excess skin and tightening the underlying breast tissue to address the effects of sagging breasts.
Tummy Tuck
A Mommy Makeover can include tummy tuck surgery to tighten the stretched-out abdominal muscles and remove excess skin for a firmer and smoother midsection.
Liposuction
Liposuction's purpose is to slim a specific area, such as your arms, thighs, abdomen, buttocks, etc., by eliminating unwanted fat and improving body proportion.
Fat Transfer
Those undergoing liposuction may also benefit from fat transfer by enhancing other areas of the body that lack volume.
Vaginal Rejuvenation
Vaginal rejuvenation may include labiaplasty (reduction of the labia minora) and monsplasty (fat and skin reduction of the mons pubis) to improve the aesthetics of the vulva region.
Increasingly, women are also including non-surgical treatments in their Mommy Makeover treatment plan. This approach can still achieve significant improvements when performed on the right patients.
When it comes to recovery, no two individuals are the same. Generally, the more the procedures, the longer your recovery will be, with the most extensive procedure dictating how long it will take to fully recover.
How Do I Tell Which Procedures Work Best for My Situation?
The best way to determine which procedures will be most beneficial is to schedule a consultation with a board-certified plastic surgeon for an assessment of your problem areas. We will work together to create a surgical plan that takes your unique goals into account for the best outcome.
Contact us today at 202-966-9590 or fill our online form to get started.