1 Minute Read: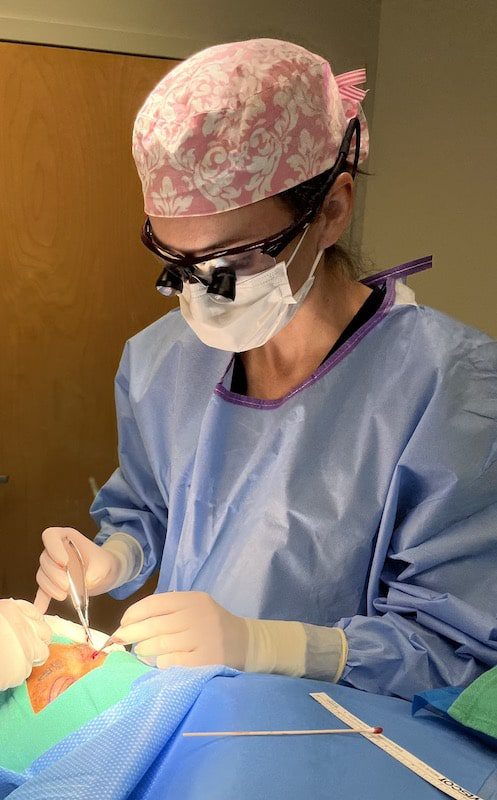 When patients are considering a plastic surgery procedure, they understandably want to minimize their downtime. In some cases, doing the procedure under local anesthesia—instead of general anesthesia, which involves a breathing tube—can simplify the procedure and the recovery.
Local anesthesia involves numbing the surgical field, i.e. where we are working, with lidocaine injections, such that the patient is wide awake but completely comfortable. In other instances, we might add an oral sedative or pain medication to take the edge off, but the patient is still awake or at most a little drowsy. Avoiding IVs and breathing tubes makes for a lighter recovery. No hangover from anesthesia, no nausea or prolonged sleepiness. We chat or listen to music during the procedure, and the patient literally walks his or herself out of the procedure room. Easy enough!
So which procedures can reasonably be done under local anesthesia?
Most skin surgery, like mole removals, skin cancer reconstructions, or scar revisions are done with the patient wide awake. Lesion excisions, such as lipomas, can also be done under local if they are not too deep. Upper eyelid surgery can be comfortably done awake, as can chemical peels, lip lifts, and skin rejuvenating treatments. I do most labiaplasties awake since the area we are treating can be very effectively anesthetized with lidocaine. When a patient wants liposuction for a discrete area—like the chin or a small abdominal pooch, a more dilute lidocaine preparation allows us to do it safely and comfortably with the patient awake. More extensive liposuction is better done asleep to ensure patient comfort and optimal results. In general, when surgeries address a more expansive area—like a breast lift or tummy tuck, the whole field is difficult to numb with local anesthesia and the procedure takes a bit longer, so general anesthesia is preferred.
In my experience, procedures under local anesthesia tend to be easier on patients. There are fewer pre op requirements, like no clearances or requirements for fasting. After a few short pinpricks to deliver the local anesthesia, the procedure is generally painless. The patient is awake and can see their results right away. And no fogginess from anesthesia! In the right patient and procedure, local anesthesia is an excellent option with predictable, great results.
Ximena Pinell, MD