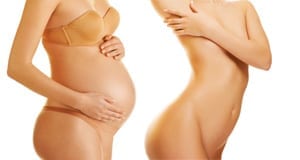 All women who go through pregnancy experience various changes in their body.  These changes are often subtle at first…and then become quite dramatic with each passing day and the relentless demands of motherhood. Women commonly see changes in their facial skin (pigment and color), saggy abs from stretched, separated abdominal muscles, droopy deflated breasts, thighs, pelvic/hip and vaginal area changes (affecting the love life)…and an overall older appearance.  The clothes don't fit or don't fit right and many don't feel as confident as they used to.
Every Fall and Spring many hundreds of thousands of women around the world decide to do one or more rejuvenative procedures so they can feel and look better.  Having a healthy body that is in good condition and shape also boosts self esteem.
Here are a few of the many benefits you get from a Mommy Makeover:
I do a thorough evaluation of your condition, concerns & goals
A detailed, personalized plan is created to rejuvenate & restore function & pre baby body conditions (as much as possible)
Mommy Makeovers can rejuvenate multiple body areas & renew self esteem and confidence
Workout programs take on new meaning to keep your renewed body in shape
Balance, shape, contour, skin conditions, and much more are addressed
Celebrities understand the many benefits & they have Mommy Makeovers!
Pregnancy, childbirth and motherhood affects multiple areas of the body which is why women often have a combination of procedures done to restore what has been lost and to get their pre-baby body back.
Mommy Makeovers are not just for new mommies!  The procedures may vary, but Women of all ages and stages in life have Mommy Makeovers so they can be healthier and look better!
I've had years of experience in choosing the right combination of procedures, at the right time…to guide many hundreds of women through Mommy Makeover and then using my artistic and well honed skills I was able to transform their body so they could look and feel better and be healthier.
It's no secret that healthy moms are better able to withstand the physical and emotional demands of Motherhood!
Here are a few of the Options Women choose for their Makeovers:
Tummy Tuck …puts the abs back in shape by correcting skin laxity, stretch marks, removing excess fat, and restoring balance.  Liposuction is often part of this procedure.
Breast Surgeries:  Breast Augmentation to replace lost volume, contour and shape. Breast Lift repositions breasts back to higher position, Nipple Reduction to restore shape, size and position.
Liposuction removes unwanted body fat and sculpts those areas to restore balance and contour.  This Body Fat can be Grafted back into other needy areas to restore lost volume and contour.
Vaginal/Pubic area rejuvenation…Pregnancy, labor and delivery loosens the vaginal area and often causes bladder urgency or spontaneous leaking, discomfort during bowel movements, unpleasant appearance of the genitals (causes embarrassment) and…reduced sexual gratification.  The excess accumulated fat in the pubic area often shows clothing and in not pleasing. We know these issues are sensitive and we handle them as such.
Is it time for your Mommy Makeover?  Let's Talk.